After installation and activation, the Groovy Menu will check for a registered license for the domain name of the site on which it is installed.
If such registration is not found, then the menu presets and settings of the Groovy Menu will be blocked. In the admin section of your site in the section "Groovy Menu -> Welcome" displays information about the current state of registration of the plugin.
To register and bind your domain to your Groovy Menu license, go to the "License Site" link https://license.grooni.com/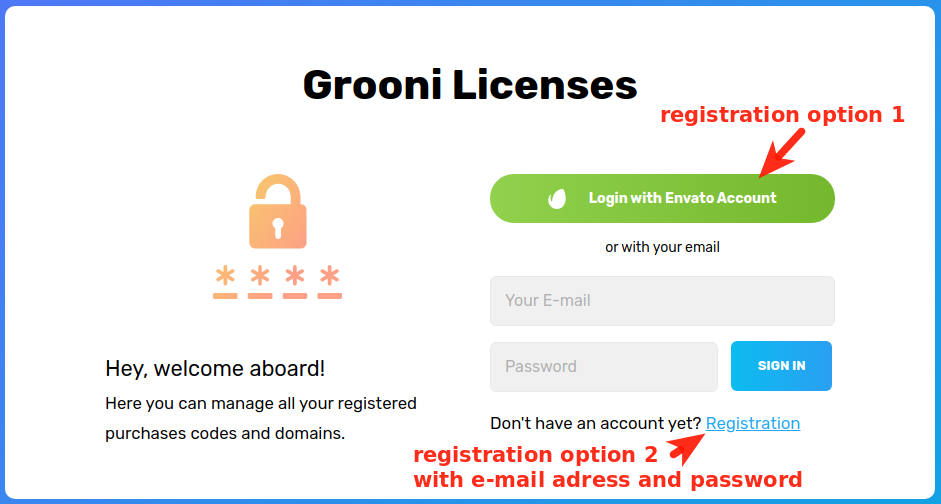 Register using your email address or use the Login with Envato Account button. You will be redirected to the Envato API site to authorize and confirm access for the Grooni application Authorize Grooni to connect with your account. Grooni envato app will be able to:
View and search Envato sites
View your Envato Account username
View your email address
List purchases you've made
Verify purchases you've made You can see all the applications to which you are granted access at https://build.envato.com/my-apps/

Next, click the Activate button and specify the address of the site on which the Groovy Menu is installed.
It does not matter if the URL with HTTS is specified or with HTTP, both of these protocols are taken into account when checking the license. They are also not taken into account when checking the site directory, only the domain itself and the installation subdomains are important.
For example: SITENAME.com or SUBDOMAIN.SITENAME.com.
If you do not see the available licenses, then try using the Refresh button and make sure that you are using the exact Envato account from which you purchased the Groovy Menu plugin for authorization.
In some cases, synchronization may take a few minutes. This is due to Envato Api sessions limits. This is actual for accounts with 100+ purchased items. You need just a wait a bit when synchronization will be complete or manually add purchase code click to "Enter Envato Purchase code"