This widget can display the recent tweets of specific user of twiiter.com. See detailed description of options below.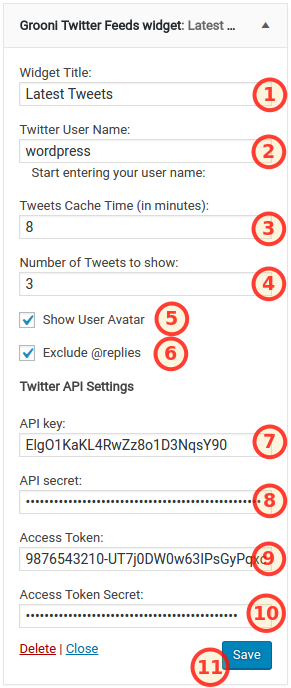 1. Widget title. Leave this field empty to show no title at all.
2. User name of Twitter.com whose tweets will be displayed.
3. Number of minutes for refresh of tweets from Twitter server
4. Maximum number of tweets for display
5. Option defines whether to show user avatar or not.
6. Option defines whether to show responses to tweets in the list of displayed tweets.
7,8,9,10. Access keys to twitter.com. To get API keys and Access Token please visit https://apps.twitter.com/ and click the name of your app (application's name) or create new keys, if you can find no created ones. The keys will be displayed on app settings pages.
11. Saving of settings.