Widget enables you to show the last images used as featured image in blogs or portfolio, as well as any images from the media library. Just fill checkbox at the image (see description below).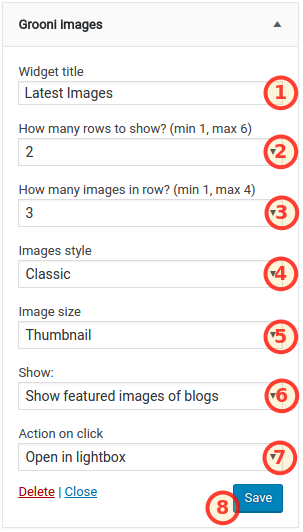 Your widget title. Leave this field empty to show no title at all.
Number of image rows.
Number of images in each row.
Image style.
Size of images for display.
Selection of image source.
Action when clicking specific image.
Saving of settings.
hint:
When choosing image source (6) you should take into account that featured images with filled "Show in widget" checkbox will be selected for "Show featured images of blogs" and "Show featured image from Single portfolio" options. The corresponding checkbox should be filled for images in media library for "Show images from media library" option.