Widget shows the list of the recent comments. As opposed to standard comment widget, "Grooni recent comments" can display comments from Blog, Portfolio pages, WooCommerce products and Ordinary pages separately.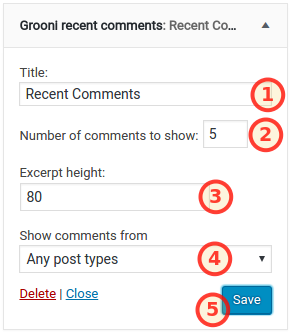 Your widget title. Leave this field empty to show no title at all.
Number of comments to be shown.
Maximum height of the comment in pixels.
Selection of post type to show comments from. Comments can be shown from Blog posts, Pages, Portfolio posts, Woocommerce product pages and from any type of the post.
Saving of settings.